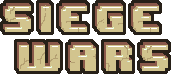 Siege Wars
Fight your rival lord's units in this multiplayer turn based tactical game.
How to play

Two player 'hot seat' mode: alternate turns with a friend on the same computer.
To select a unit, click on it. To deselect, click elsewhere.
To move a unit, once selected, click inside its movement range (this can be the current tile this unit is on).

To attack a unit, after having moved, click on an ortogonally adjacent target.
Fight for glory, or die tryin'!